An innovative new project is underway at Blackwood's care home at Broom Court in Stirling this autumn. Working in partnership with Drake Music Scotland, Blackwood is building on recent developments in SMART technology to provide residents at Broom Court with opportunities to make music and ultimately create and record an original composition. I recently visited Broom Court and caught up with some of the residents taking part in the project, as well as staff and representatives of Drake Music Scotland – read on to find out more …   
            The simple act of making music has well-known rehabilitative potential. To create and perform music can stimulate the mind and ease psychological distress, in addition to enhancing motor skills and raising confidence. The BBC recently reported on the provision of music therapy to disabled children in Gaza, with Eileen Audallah, a psychologist at the National Centre for Community Rehabilitation in Gaza City suggesting that '"in my experience music is one of the most successful forms of therapy for people with special needs … it increases self-confidence and helps people to develop ways to express their emotions and feelings"'. Nevertheless, playing a musical instrument is an intensely physical activity that might seem preclusive to some people with severe disabilities. At Broom Court however, assistive music technology is being used to overcome any such obstacles to creativity. 10 sessions are being run by Niroshini Thambar, who is making use of a variety of assistive technologies to help participants create their own original piece of music. Widely available technology is being used in conjunction with more bespoke, sophisticated software to support the creative process for the residents at Broom Court. Niroshini tells me that 'an iPad enables people to play music using the lightest of touch, using the touchscreen interface. This is particularly good for people who do not have a lot of strength in their hands. The apps explored in the sessions to date are Thumbjam, Aquasonic and inBloom. With these, participants touch areas of the screen to trigger musical notes'.  
            Niroshini is also using a music technology system called Soundbeam in conjunction with the iPad. Soundbeam utilises ultrasound and MIDI information to convert physical movement into musical notes, while Apple's studio software programme Logic Pro translates these data into instrumental sounds from the harp and orchestral strings to the acoustic guitar and mellotron. For the Led Zeppelin fans among us, Soundbeam functions much as a technologically-advanced Theremin – participants use their hands to manipulate and effectively 'play' the beam. Mandy, one of the participants at Broom Court tells me that she has been using her feet as well as her hands to replicate the sound of a harp; in addition to assisting her creativity, this is also good exercise! Once the participants are confident with this technology the project will introduce them to traditional musical instruments. 'Over the coming weeks we will also be exploring music-making via the use of keyboards, acoustic percussion, and also possibly with the accessible music notation system Figurenotes' Niroshini says. Developed at the Resonaari School in Helsinki, Figurenotes uses a simple system of coloured symbols applied to musical instruments to assist those with learning support needs in reading music and recognising musical notes. By building confidence and familiarity with making music the assistive technology used at Broom Court will provide participants with an avenue into the world of traditional instrumentation. 
            Bringing together assistive technologies and traditional acoustic instruments is particularly stimulating for those with previous musical experience. Aileen, one of the residents at Broom Court taking part in the project tells me that 'I used to play the piano and organ when I was a girl, but I can't because of coordination now'. Aileen is now able to return to a childhood passion in an environment where 'you don't feel under pressure'. The project aims to relax and bring up evocative memories of the past to stimulate the participants' creativity. 'We have been looking at the landscape painting "The Sound of Many Waters" by the artist John Everett Millais' says Niroshini. 'This is a painting of an area near Rumbling Bridge in Perthshire and we were inspired to look at this by one of the Broom Court participants who had memories of walking in the hills and landscapes near Brig O Turk'. Participants are encouraged to channel personal experience into their composition, while engaging with natural themes such as water and rivers. Niroshini tells me that 'we have also been listening to and singing the folk song "The Water is Wide", and hope to weave elements of this into our recorded piece'. Once the project is complete, the participants will perform and record their composition. Niroshini says that 'as with any creative journey these are just the starting points, but as one of the project outcomes we plan to create a piece of recorded music as a soundtrack to the painting'.   
   The Drake Music Scotland project at Broom Court has highlighted the power of music to stimulate, to engage, and to challenge us to overcome our creative boundaries. In a deeper sense, it has also fostered a sense of community among its participants, with their shared experience of making music providing a valuable opportunity to socialise and work together towards a collective goal. Each of the participants that I spoke with said that they would like to continue making music, and all have enjoyed the camaraderie involved. We will return to Broom Court to follow the journey of the participants once the project comes to an end, but in the meantime be sure to check bespoken in the coming weeks for the public debut of the Broom Court composition … 
------------------
Sign up to bespoken to post a comment below...
------------------
Find out more about people breaking down barriers ...
Paralympic gold medallist Martina Caironi shares her story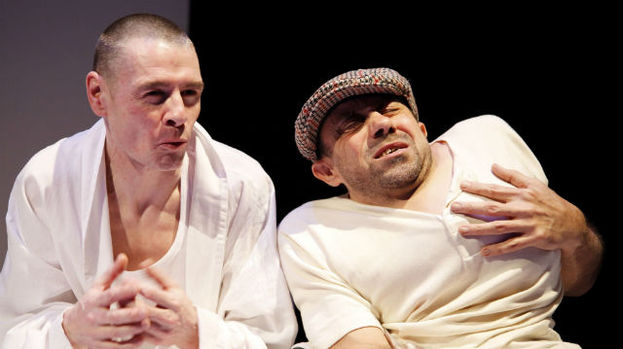 Inclusion without exclusion in Scottish theatre