Picture Fred and Ginger dancing so beautifully… what if one of them had been a wheelchair user?
Strictly Wheels Foundation is a charity based in Manchester and working throughout the UK to promote wheelchair dancing.  They also run Wheelchair Dance Classes. I had the pleasure to interview Paula Moulton and Gary Lyness, founders of Strictly Wheels Foundation.
The two leads in this amazing story started dancing in 2010 after seeing a local class advertised.  Why did they decide to go along? Basically, for fun to start with, but within six months they were auditioning for Sky1 Got to Dance and entering their first competition, the UK National, in which, they were named the UK National champions in the beginners category.
My first question has to be: how do they prepare for competitions? Like any top competitor, a lot of training goes into achieving their goals. As you can imagine, they work on choreography and technique all the time.  Additionally, in the couple of weeks before a competition they tend to run their 5-dance set several times so they can do it instinctively without missing a beat and to build up stamina.
So how does wheelchair dancing differ from other dancing?   Do the dancers work around the wheelchair when they create routines, or is it an intrinsic part of their performances? Speaking to bespoken, the dancing duo said "choreography for wheelchair dance is simply thinking outside the box from standing dancers and seeing how you can re-create movements and patterns and the style of dance using the movement of the wheelchair".
They say practice makes perfect. Paula and Gary have an array of national and international titles which speak of thousands of hours of hard work. Within four months of their first national win, they had stepped up to Amateur (intermediate) level, which was a significantly leap. 
Soon after, they entered their first international competition in April 2011 in Cuijk, Holland - the largest wheelchair dance competition in the world. They surprised everyone, including themselves, by dancing through 4 rounds and winning Gold in the Amateur Combi Latin. "We were amazed!" says Gary "There's a great video on our YouTube Channel of the moment we were announced as winners… our faces say it all!"
That particular moment remains one of the proudest they have ever had. Another big highlight was their audition for Britain's Got Talent in 2012. Reflecting on that memorable audition, they consider (as do I) that it was really great for the British public to see wheelchair dance in a mainstream prime-time program.
This year has plenty in store for them too and is set to be a very exciting one. Due to a change in IPC rules all wheelchair dancers will be re-classified and so they have no idea who their opponents in their class will be at their next competitions (at Easter in Cuijk, Holland; in June the Danish Open and Para Dance Sport Mainhatten Cup in Frankfurt; and the Para Dance Sport World Championships in Belgium in October).
Having hopefully painted a very eloquent picture of our interviewees, let's take a closer look at their charity: Strictly Wheels Foundation. I was wondering about its main goal. They spell it out for me very clearly: "We say it's about 'Ability, not Disability'. It's about using what works and not focusing on what doesn't work.  Everyone is able, just to differing degrees." They hasten to add that they want to get as many people dancing as possible in the UK because it would be great to have a thriving grass roots club circuit. They would like to have more competitions in the UK as they mostly have to travel to Europe to compete. 
To help them spread the joy of dance, as already mentioned, they teach wheelchair dance classes in Manchester. The most important benefits of wheelchair dance include: increasing fitness and ability; improving self-confidence and self-esteem through participation; reducing social isolation through inclusion and increasing personal independence through a better ability to use a wheelchair.
After reading this, you might just be inspired to try wheelchair dancing yourself! If that's the case, their classes run every week on a Wednesday evening in Manchester. Anyone    is welcome to come along whenever they can.  Everyone is a beginner, so they are all learning together. They teach both competitive dances and also do a lot of social fun dances.
If trying wheelchair dance classes appeals to you, but you don't live in Manchester or nearby, you can check with the WSDA (UK) – the UK Governing Body. Who knows, it might not be long before you are representing Great Britain in the beginners category. It's not as mad as it may sound; some of Paula and Gary's club members have already got their sights set on their first international competition!
-------------------
Sign up to bespoken to comment and receive our weekly bulletin
-------------------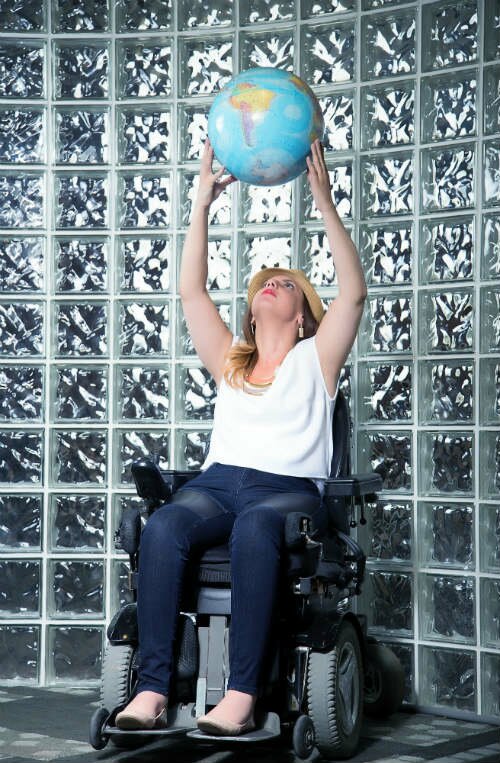 Runners up in the Blackwood Design Awards 2016 - we speak to the charity Demand!